Even if you're not really invested in the fashion world, you'll likely have heard of the term romper. In fact, we even have a category at Angel A. Studio titled Rompers and Jumpsuits. So what exactly are rompers, how are they related to jumpers and jumpsuits, and how can they fit into your wardrobe?
Let's discuss all of that and more in this post.
What are rompers, jumpers, and jumpsuits?
A romper is essentially a one-piece garment that consists of a shirt and shorts. You may have heard the term romper in babywear. That's because it's pretty much the same thing, just made to suit adult fashion tastes. However, some people have difficulty telling the difference between rompers, jumpers, and jumpsuits.
Rompers are usually made from light or synthetic fabrics to make them a bit more breathable. They typically have a long V-neck with varying degrees of sleeves and are suitable for all body types. The big difference is that rompers are shirts combined with shorts, meaning they never go beyond the knees and are fairly high up.
Rompers are typically worn as sportswear, at beaches, for casual mornings, or even just for lounging around. Rompers can come in synthetic materials for sporting use, but they can also be designed as loose garments that are made from silk and chiffon for formal occasions.
Jumpers for women are very similar to overalls in style. They're typically made from denim or other thicker fabric, they're mostly sleeveless, have an open-sided bodice, and are usually worn on top of garments such as a shirt. These are extremely versatile in any wardrobe and help with layering different pieces on your outfits.
Jumpsuits for women can come with or without straps and are generally considered to be a blouse or shirt with an attached pair of trousers. Since it's still a one-piece garment, it can come with different patterns, colors, or features on the top and bottom half. They're considered to be extremely versatile and are great for many different types of bodies. They're also paired with heels or wedges to create an elegant look.
Now that you know what rompers, jumpers, and jumpsuits are, let's take a look at some of the choices available at Angel A. Studio.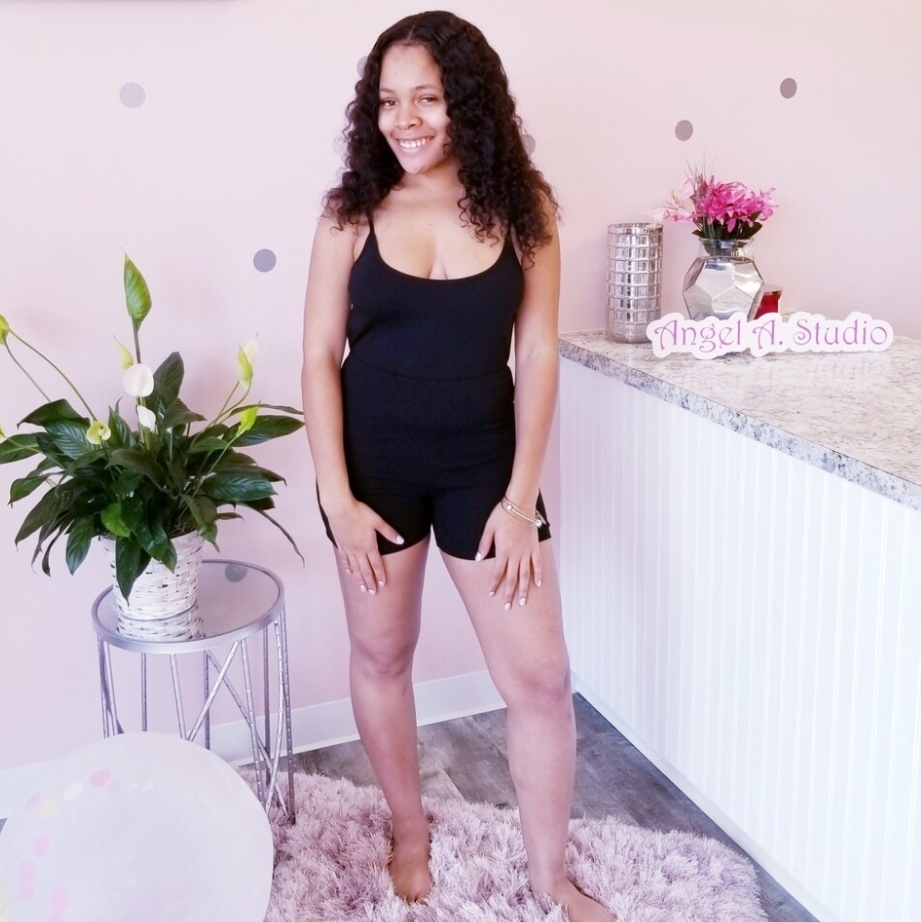 This is a quintessential Black Body Romper that is simple, stylish, and checks all the right boxes. Be it for sports, at the beach, or just to lounge in, this Black Body Romper is a basic piece that every woman should have in their wardrobe. This particular romper has an exposed back with simple straps. It can sit fairly high and the shorts reach the upper thigh area.
This romper can be worn on its own during a hot day or when you're at the beach. However, you can also pair it with a belt to define your waist a little more, a jacket or even a blazer for a unique look. Since it's plain black and relatively simple, styling it with accessories and jewelry can be a great way to lift it up!
When it comes to fashion trends, simple black rompers like this will always be relevant because they're simple and versatile. However, it's important to remember that wearing this as part of a regular outfit is a little difficult because of how form-fitting it is. That's why many people only wear these types of rompers at home as loungewear or on the beach. Incorporating them with regular clothing and outfits can be difficult unless you're willing to experiment.
However, as summer comes around, we're going to see far more people adding rompers to their outfits and styling them with everything from elegant blazers to sportswear brands.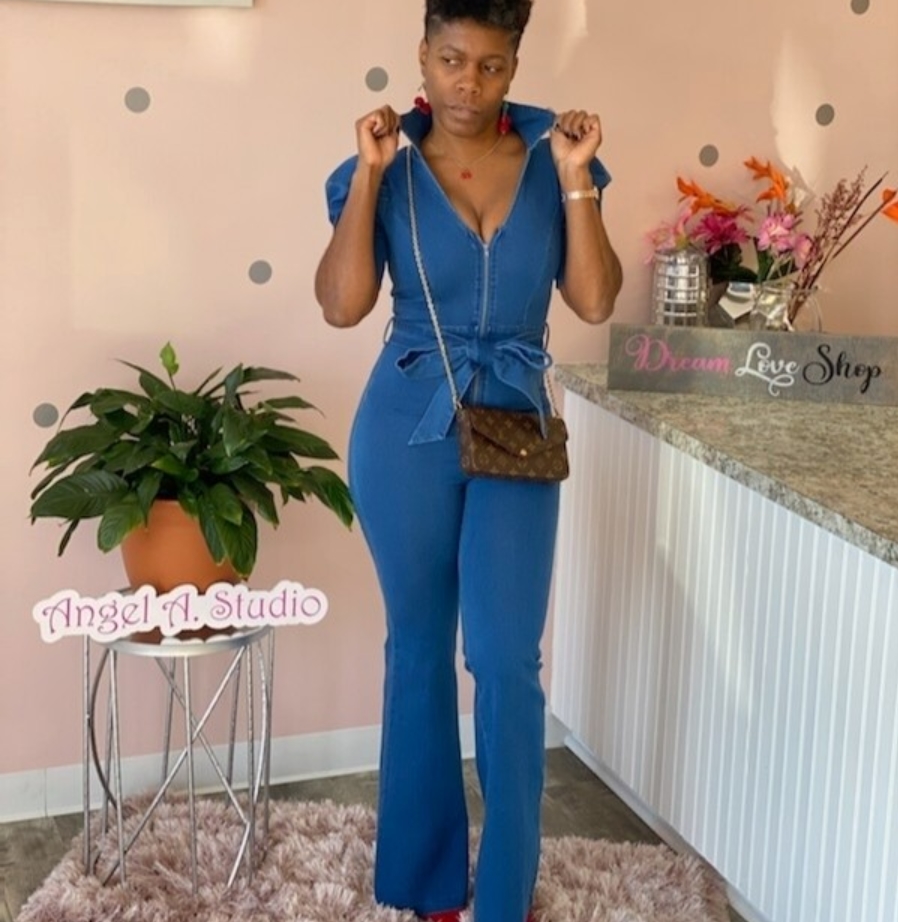 Denim is one of those timeless materials that will always be trendy regardless of the year. Jumpers are typically made from denim because it's a durable material that looks fantastic even if it gets worn out.
This Bell Jumper is a little different from regular jumpers as it's not entirely sleeveless and it's much longer. It also doesn't have the characteristic open-sided bodice, but it is made from high-quality denim and features a unique bow at the waist to highlight your body shape!
Jumpers are excellent for simple layered outfits. You could wear this jumper over a regular shirt or blouse and it would look fantastic. We'd suggest either a white or black shirt or blouse, but you can also go with a complementary color such as orange to create more contrast. Alternatively, you could go with a monochromatic look and wear it over a light or dark blue shirt or blouse.
It's certainly a versatile jumper, and there are many ways to incorporate it into your outfits. Because it's a little plain in terms of texture, we suggest adding a couple of accessories such as a bag, jewelry, and a contrasting pair of shoes to create more visual interest!
In terms of trends, jumpers have always been around, but are usually known in the form of overalls. Those are designed for work purposes because they have a lot of extra pockets for functionality.
However, it's becoming increasingly common to see workwear in mainstream fashion trends! This happened with cargo pants in the past and jeans were also considered workwear decades ago.
If current trends continue, then we could see a future where jumpers are far more popular and mainstream. They're simple to wear, versatile, and functional, meaning they'll always have a place in the world of fashion.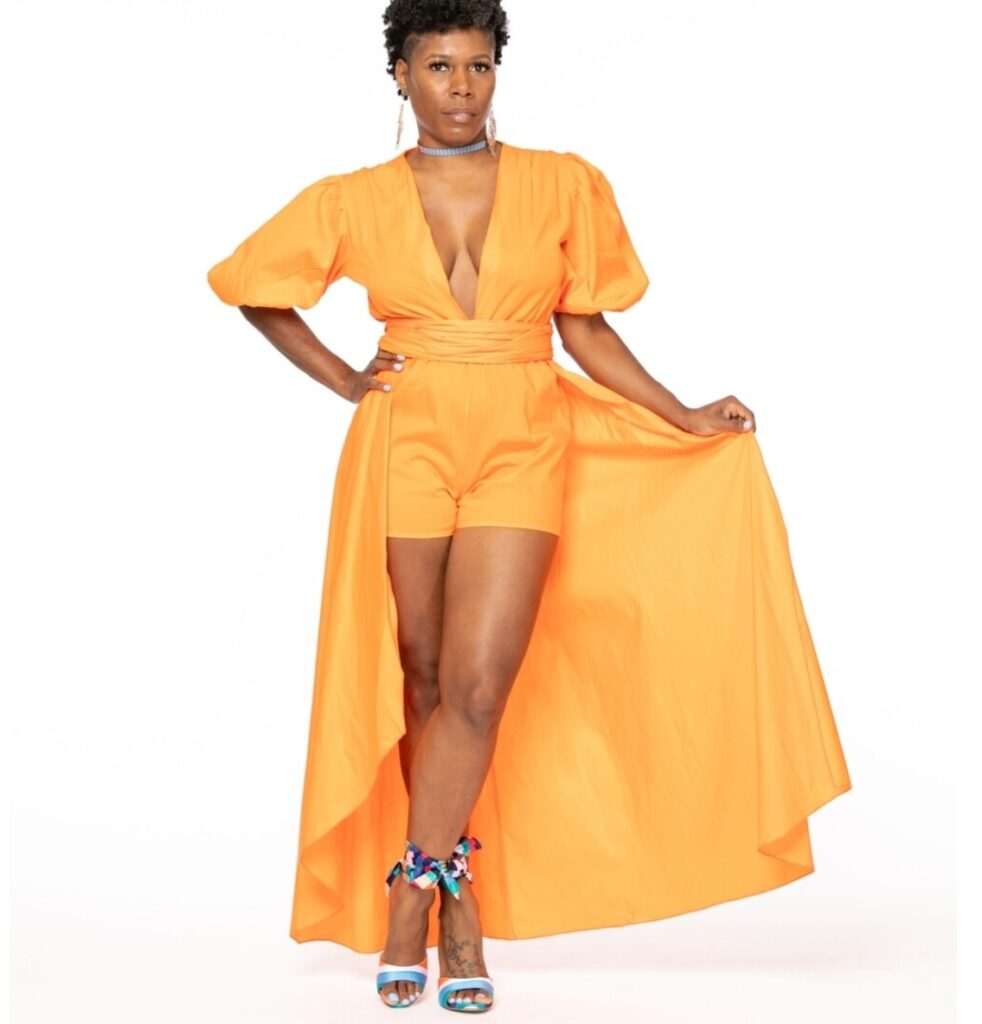 Whereas the previous romper we showcased was fairly plain but functional, this Long Tail Romper is on the complete opposite end of the spectrum! It features a low-cut front with puffy medium-length sleeves, and an attached sash belt. The highlight of this piece is the long tail at the back.
This is an elegant piece that we highly recommend for anyone that looks great in the color orange. Whether you create a monochromatic look with lighter and darker orange tones or contrast it with blue accessories and shoes, there are a ton of ways to style this romper and it's one of the reasons why they're so popular!
This is the type of piece you'd wear at the beach or even at an elegant party. It's simple, yet the color is bold and enhances the wearer's confidence with the low-cut V-neck front. The long tail can create some wonderful scenes if you're out at the beach or in a sunny garden, and it leaves a lot of space for you to accessorize with different kinds of shoes, and accessories.
This orange Long Tail Romper is perfect for many different body types and comes in three different sizes to ensure that it fits you. It's made from 97% cotton and 3% spandex.
In terms of fashion trends, this Long Tail Romper shows what's possible with a little creativity! The definition for a romper is still very loose and you can generally add whatever you want to a romper as long as it contains a shirt or blouse with shorts. In this example, the incorporated sash belt adds a distinction between the top and bottom halves, and the long tail creates more visual interest that is unique to the trend.
This is a statement piece that ultimately stands out and demands you to pay attention to the wearer! We can expect many more unique rompers like this in the future with different colors and eccentric features.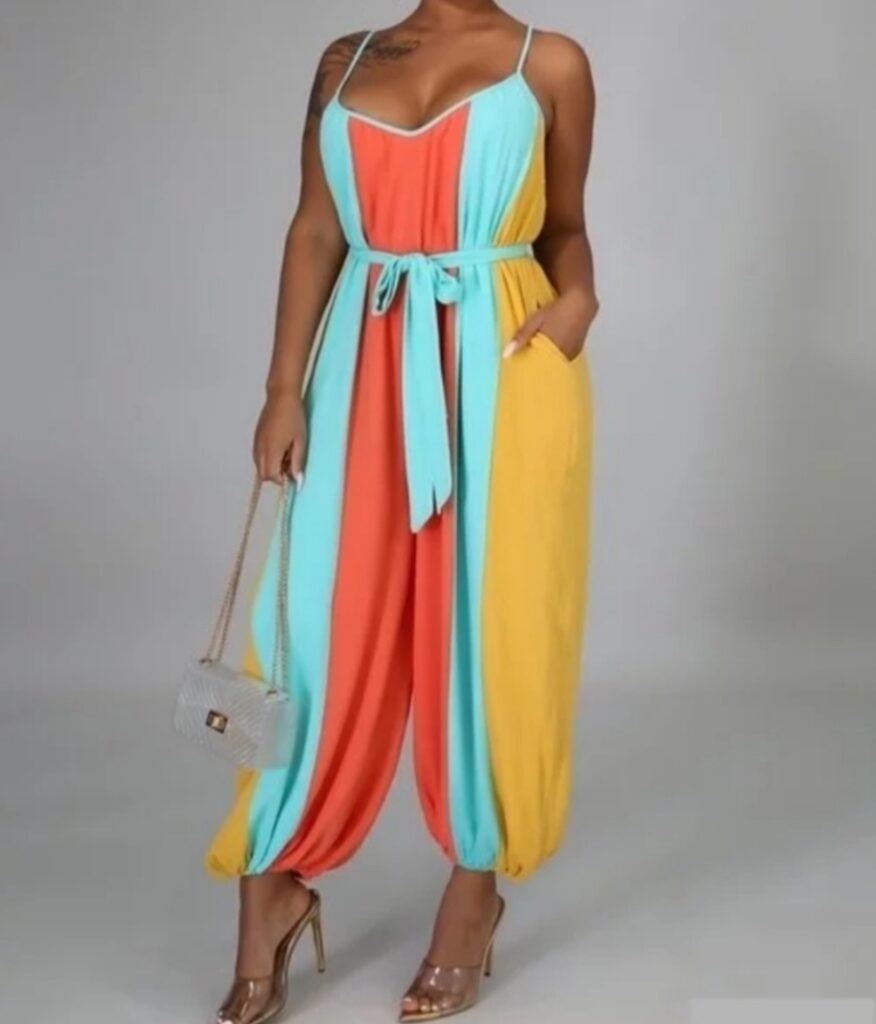 This Sunny Jumpsuit from Angel A. Studio is a colorful piece that uses the three primary colors. It features a light blue sash belt that wraps around the waist and light blue straps to hold the piece on your shoulders. It's much more loose-fitting than most other jumpsuits which highlight the comfortable and versatile nature of this piece. The front is a low-cut V-neck that can draw attention to your shoulders and bust.
The best feature about this jumpsuit has to be that comes with pockets to keep a hold of your personal belongings! You can't go wrong with pockets!
The color choice here is one of the things that makes the Sunny Jumpsuit stand out. Primary colors are incredibly useful for monochromatic coordination, but mixing all three of the primary colors creates a perfect contrast when used in the right quantities.
This is a piece that speaks for itself and doesn't need to be worn with anything but a couple of accessories such as a neutral pair of flats or heels and your choice of jewelry. However, it will require a bit of confidence to wear this jumpsuit because it's fairly low cut, exposes the shoulders, and also uses an eccentric color scheme. It's also great for many different body types because of the adjustable belt and how loose the entire jumpsuit is!
Jumpsuits will always be popular and can be styled with so many different pieces! In some cases, jumpsuits can be worn with a blazer to make it more formal. Some might even wear a jumpsuit with a jacket when the temperatures start to drop. But, that's only because we rarely see jumpsuits that are able to stand on their own.
Most jumpsuits are typically very simple with neutral shades and a lack of patterns. While the construction and silhouette are outstanding, they simply aren't very exciting and rely on other pieces to help them stand out. On the contrary, this Sunny Jumpsuit is a brilliant piece to wear on its own thanks to the unique color choices and the loose fit. We're likely going to see more of these colorful jumpsuits in future summers!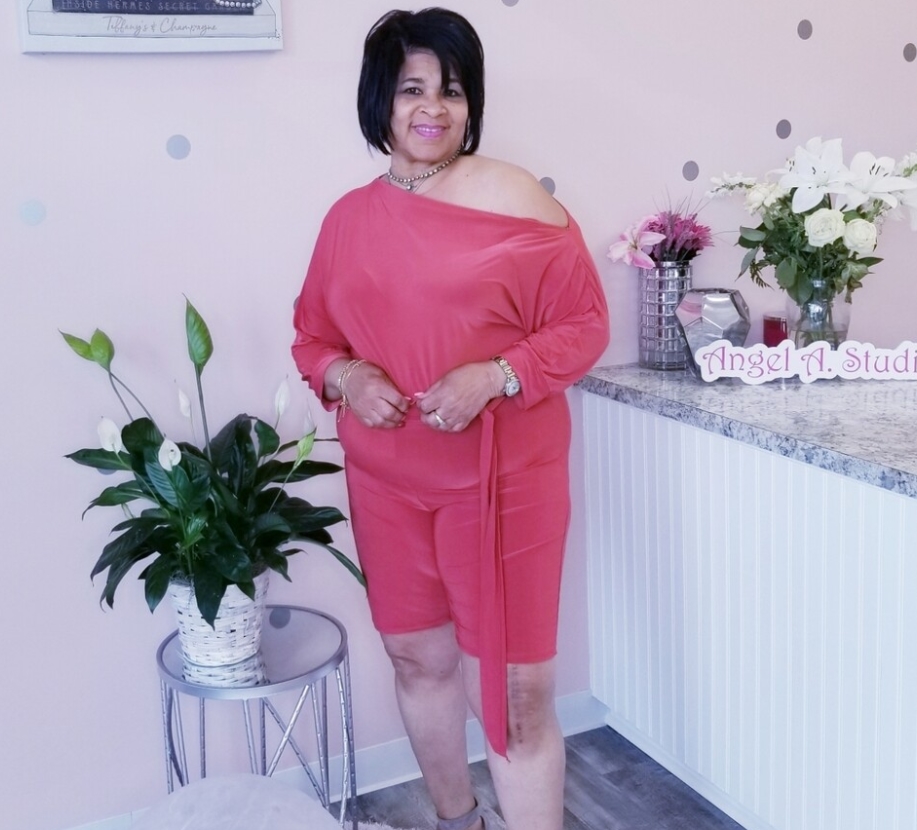 For the final piece on this list, we're going to showcase the Rust Romper from Angel A. Studio. Rompers are meant to be comfortable, easy to wear, and elegant. They're versatile enough to be used in a variety of different situations, but they can often be designed with a specific use in mind.
For example, this Rust Romper comes in a light red tone and includes a sash belt to keep it tightened around your waist. This makes it suitable for many different body types and can be used in both as loungewear or even paired with jewelry and accessories to make it a statement piece in a formal setting! The single bare shoulder makes it a little more interesting than regular rompers, and it also fits a little loose and doesn't tightly hug against your skin.
Rompers are an evolving trend. They're not going to stay the same forever and it's important to realize that rompers don't always have to follow the definition we gave at the start of this article.
That's the fun thing about rompers! As an evolving fashion trend, we're going to see many unique rompers that completely change our perspective of what a romper is, how it can be used, and what you can pair it with. This is one of the reasons why it's exciting to try on rompers; it brings fashion back to a place where we experiment with our outfits and use color, shapes, and textures to help express ourselves!
You can definitely expect to see more unique rompers like this one in the future.
Rompers, jumpers, and jumpsuits are here to stay for 2021 and beyond! They'll likely never go out of fashion simply because they're practical, you can personalize them, and they are full of creativity.
While you might not own a romper, jumper, or jumpsuit at the moment, Angel A. Studio is fully committed to following the latest fashion trends and offering our customers a diverse selection of hot pieces that will complement your existing wardrobe. Take a look at our Rompers and Jumpsuits category to find out more about all of the products we offer.