If you're into fashion then you'll probably know just how important it is to wear clothes that are suited to your body type. To some people, this advice sounds like you shouldn't wear a specific type of clothing if your body isn't suited for it–but that's actually not the case.
Instead, you should think of it more as specific types of clothing being able to highlight the features of your body and bring attention to them!
When it comes to form-fitting clothes, bottoms are arguably one of the most personalized areas. Not only are there many different body shapes that change the way we wear bottoms, but there's also a lot of personal preference involved here.
Whether you have long legs, short logs, high knees, low knees, wide hips, or small hips, there's an ideal pair of pants or skirt style for you that is just waiting to be discovered.
In this post, we'll be looking at how you can pick the perfect pair of fashionable bottoms for your body type.
The body shapes that you should know about
First, let's start by explaining some of the common body shape types.
Pear shape
Pear-shaped bodies are typically a little wider at the waist than the bust. If you consider yourself having full hips and narrow shoulders, then you're likely a pear shape.
Hourglass shape
Having an hourglass figure means you have a curvy body with a well-defined waist. If you've ever measured your bust and hip and they are relatively even, then you have a curvy hourglass shape.
Apple shape
Also known as the inverted triangle, an apple shape means a well-proportioned body with shoulders that are broader than the hips. Your bust is generally a bit more prominent than your waist.
Rectangle shape
Some refer to rectangle bodies as straight or athletic shapes. If you're not particularly curvy in either your waist or bust and your weight is evenly distributed, then it's likely that you're a rectangle shape.
These four terms are going to be used a few times in this post, so it's a good idea to examine yourself in the mirror and determine which body type you're more likely to be. Keep in mind that this shouldn't limit the types of bottoms you wear. Whether it's joggers for women, jeans, or even skirts, you should always try out different bottoms regardless of your body type to see if it looks good in your eyes.
Use this as a general guideline for what to pick if you're lost. Don't follow it as gospel!
Bottoms for pear-shaped body types
When it comes to pear-shaped body types, one of the keys here is to highlight the waist area to flaunt your features. Of course, some women prefer to hide their wider hips as well, so there's a lot of choice for you as a pear-shape body type.
A common strategy for women that want to hide their pear-shaped body type is to actually focus attention away from the hips and draw it to the upper body. This can be achieved with lots of unique tops and dresses to de-emphasize the lower body.
By creating layers on the upper body, you can get away with wearing almost anything as your bottoms. Be it joggers for women, a skirt, or even jeans, if you master the art of turning eyes away from your hips then anything can feel comfortable! Shorts for women can also work well if the weather is suitable for it.
The key here is to create a balance so you can achieve the illusion of an hourglass body.
But what if you want to highlight your hips? What if you want to flaunt off your features and show them off with pride? In this case, there are a lot of bottoms that can help you achieve that!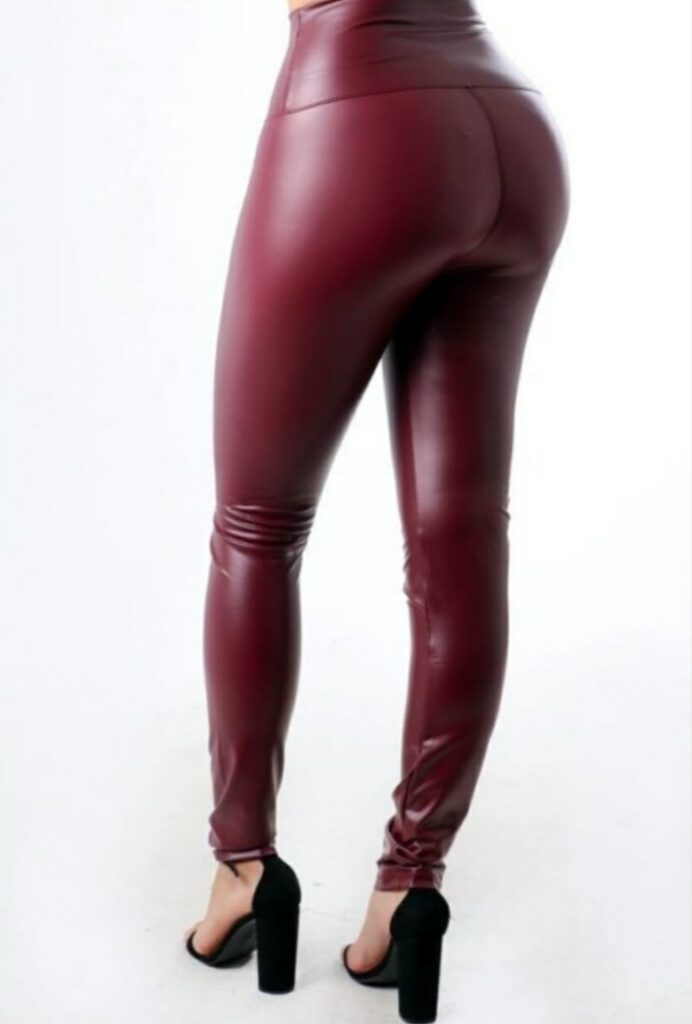 This pair of High Waist Liquid Leggings from Angel A. Studio is the perfect example of an attention-grabbing pair of bottoms that are ideal for someone with a pear-shaped body.
Liquid leggings (also known as shiny leggings) have a shiny leather look to them that almost creates a wet appearance. They were incredibly popular in the late 2000s and have always remained in style for adventurous types with bottom-focused body types.
Since they draw a lot of attention to your hips, they can enhance your features and actually turn eyes away from your upper body!
High-waist liquid leggings can easily be paired with simple tops and jackets. However, if you want to draw more attention to your hips, then you can wear a simple crop top to de-emphasize the upper body.
Bottoms for hourglass-shaped body types
Women with an hourglass figure can often wear whatever they like to show off their features. However, you might also want to draw attention away from certain parts of your body depending on your preferences. Much like with a pear-shaped body, the key here is to focus your clothing on body parts that you want to highlight!
A common option here is to highlight your waist as the main focus of your clothing. As such, wearing belts along with your bottoms can be a great way to add a bit of flair. Anything high-waisted can also draw more attention to your hourglass shape.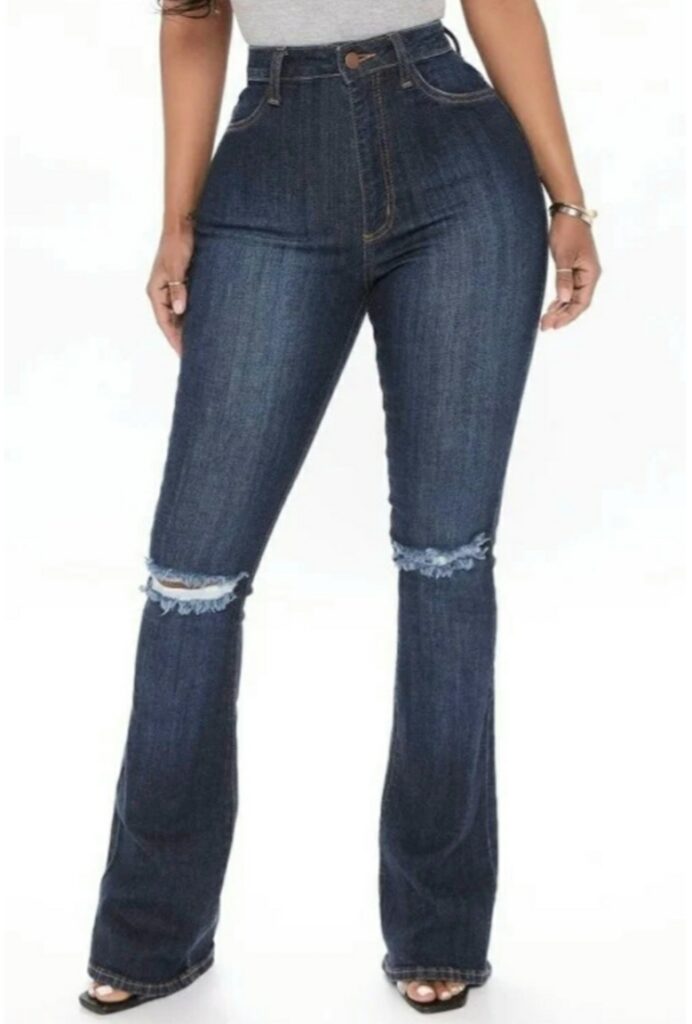 Something simple like this High Waist Flare from Angel A. Studio is a great option for hourglass figures. Jeans are extremely versatile regardless of your body type, but the highlight here is the option for a belt. If you want to draw attention to your slim waist, then you'll need to have a variety of different belts in your wardrobe that can match your different outfits. The goal is to add a lot of unique and colorful accents around this area of your body so that people notice it first!
You can also draw attention away from the rest of your body, such as your hips and your shoulders, by wearing simple clothing that doesn't stand out much.
However, things can change if you wear a dress. Since your bust and hip are roughly even, wearing a dress can seem a little awkward because it doesn't highlight your figure. Instead, it creates a very boxy appearance which isn't desirable in most cases.
Once again, belts can be useful to tighten the dress around your waist so that it highlights your hourglass figure. Instead of a belt, you can also use some kind of tie or bow. You typically don't wear bottoms with a dress, but since a dress is a one-piece it almost counts as a pair of bottoms and it's important to point this out.
Bottoms for apple-shaped body types
Apple shapes are usually well-proportioned with shoulders that are broader than the hips. However, this doesn't necessarily mean that you have curvy hips. In addition, you likely don't have a well-defined waist because this would put you in the category of an hourglass figure.
Women with apple-shaped bodies tend to draw attention away from their legs to focus on their full bust. However, that doesn't mean you should completely avoid your legs and arms!
The goal is to move away from anything that requires a snug fit around your waistline. Trousers can be a little straighter or flared at the bottoms to create a bit more visual interest, but the idea is to avoid anything that clings to your waist to give you a bit more space around the hips.
Joggers for women can be a great choice because they're comfortable and they don't fit your form. Best of all, they can create the illusion of fuller hips!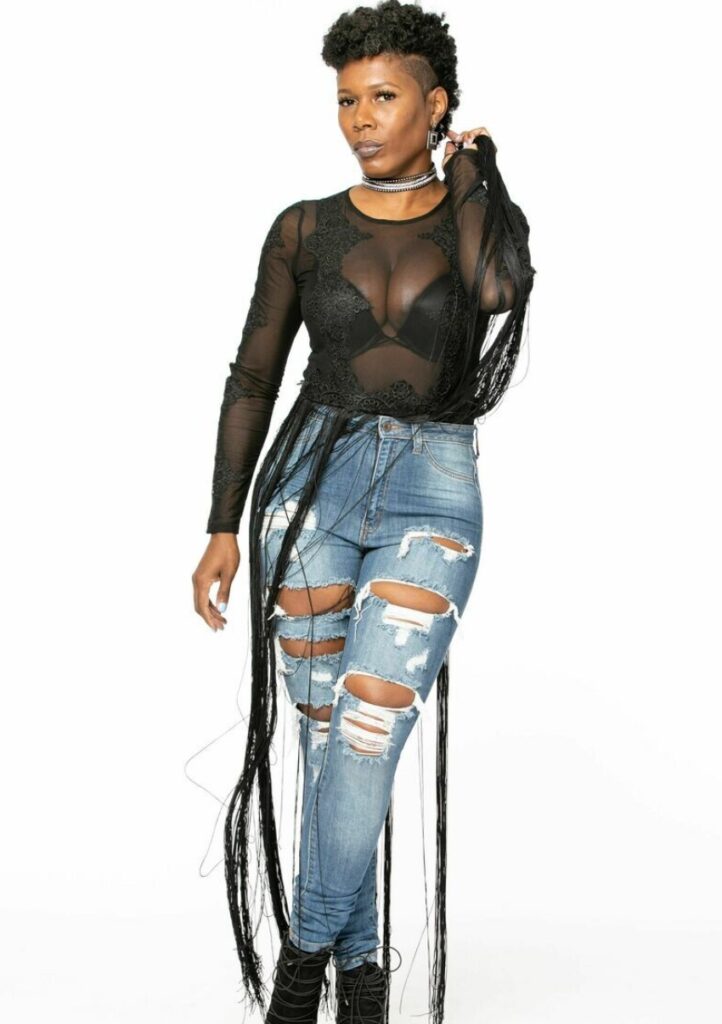 A good place to start if you have an apple-shaped body type is a great pair of jeans. These High Rise Distressed Jeans from Angel A. Studio are a great example of a versatile pair of bottoms that are suitable for almost every body type! Denim is always a favorite regardless of the type of clothes you wear, and you'd be surprised at how well a simple pair of distressed and cut jeans can work with virtually any top!
Some jeans tend to hug the areas around the thighs, but this pair fits to size and can feel a bit looser around the hips which is ideal if you're trying to avoid highlighting it. High rise jeans are the perfect addition to anyone that wants to hide their waist and focus on their upper body to create a consistent silhouette with their outfits.
In terms of comfort, you'll want to get something that is a good fit and offers a bit of stretchiness if possible. This is why joggers can be a great option if you're looking to have a pair of bottoms that you can wear almost anywhere.
If you do wear skirts with an apple-shaped body, try to make sure they don't go too far down the body so that you can keep the focus on the mid to upper body.
Just remember not to de-emphasize your legs too much. Wearing a pair of skinny jeans that hug your legs won't work well with apple-shaped bodies because it creates a very top-heavy appearance. This can work in some scenarios, but in most cases, it just looks strange on someone with an apple-shaped body.
Bottoms for rectangle-shaped body types
Rectangle bodies, also known as athletic or straight, are usually fairly uniform. Your bust and hips tend to be around the same measurements, so you have a lot of flexibility with what you decide to wear.
Drawing people's attention to your upper or lower body is a choice that you have with a rectangle-shaped body. Whether you wear high-waisted jeans to accentuate your waist or slim jeans to bring more attention to your upper body, the choice is going to be a personal one!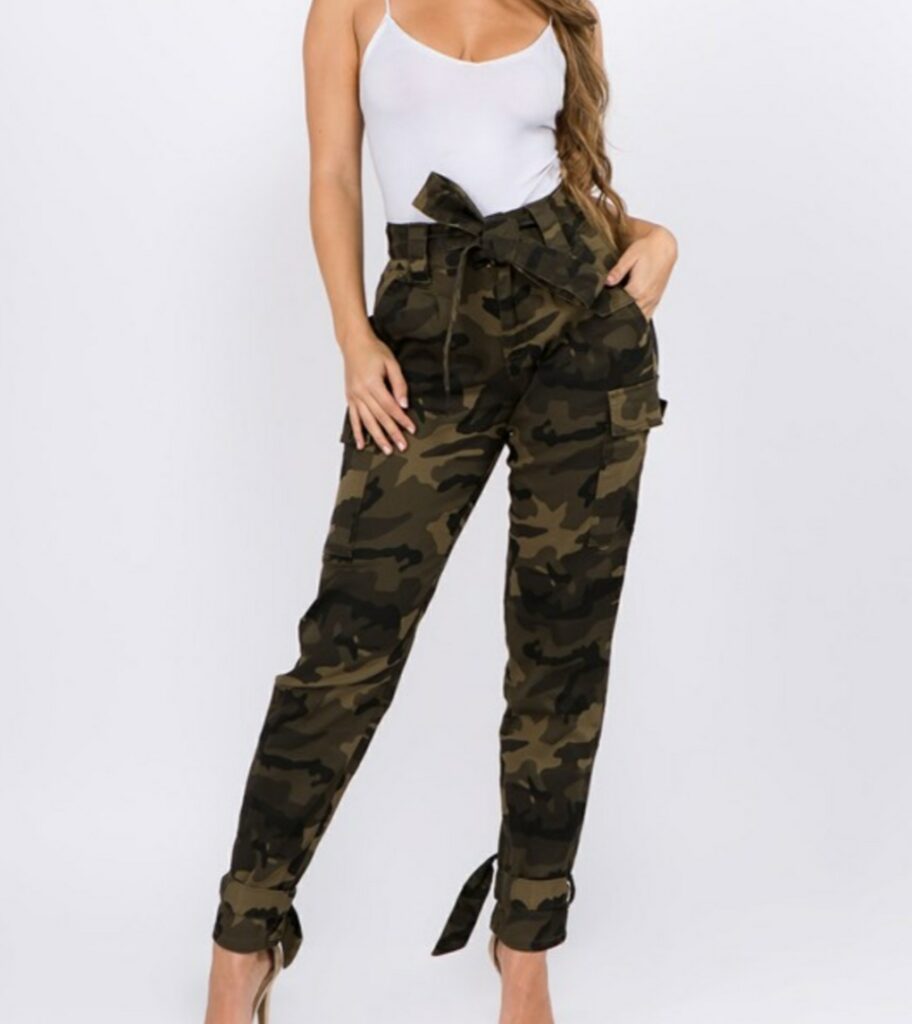 As a general recommendation, we'd suggest going with something comfortable such as this pair of Camo Print Joggers from Angel A. Studio. There are multiple sizes to pick from, they have convenient pockets, and a 97% cotton construction! You're guaranteed to get a durable, comfortable, and versatile pair of joggers for women with these bottoms!
The reason we suggest joggers is that they provide a lot more comfort than other bottoms and they can be a little loose, giving you more options when it comes to styling the rest of your outfit.
The camo print is also a classic that adds a lot of texture and visual interest to your overall fit. The bow at the waist and on the lower legs is also rather unique and not something that you see on many pairs of joggers.
When picking bottoms for a rectangle-shaped body, it's all about keeping proportion in mind. Since your body is already fairly balanced, you get to choose where to create curves and where to highlight your body!
However, if you do this, keep in mind that everything needs to stay roughly equal. If you're going to wear a pair of bottoms that widens your hips a little, then you want to try and wear something large and puffy on your upper body to balance your silhouette. Alternatively, you could try adding elements such as accessories, jewelry, and so on. This will help bring more attention to the upper body to create balance.
We hope that this post has helped you understand the most common body types around. We also hope that we've given you a couple of great recommendations for bottoms to buy if you want to highlight or even hide your features. Whatever choices you make, it's good to remember that you don't need to be a certain body type to rock a particular pair of bottoms. As long as it makes you comfortable and enhances your style, you should wear it proudly.