Let's face it; most of us are probably stuck wearing neutral colors like black and white and we can't break out of that habit. Of course, there's nothing wrong with these simple colors. They can fit almost any outfit and there's no wrong way of combining them because they just work. It's pleasing to the eye and the majority of clothes you can buy today are going to be made with neutral colors in mind to make them versatile.
However, a wardrobe full of black, white, and gray pieces can get a little boring. If you open your closet and all you see are these basic colors, then it's about time you added a bit of color and personality to your wardrobe!
But, how do you get started? What are the best colors to use? Are there any rules to using color in your outfits?
We understand if you have a lot of questions, so in this post, we're going to explain exactly how you can add color to your outfits and also give you a couple of practical examples.
Styling using just one color (monochrome looks)
One of the easiest ways to start using color in your outfits is to try a monochrome look. More specifically, you should try it with a primary color such as red, blue, or yellow.
These form the basis of every color. For example, if you want to make purple, you mix red and blue in varying amounts and potentially add a splash of yellow. That's why primary colors make excellent choices for mixing color into your outfits!
A monochrome look focuses on just a single primary color. While it seems basic, the idea is that a single color helps to streamline the body and make it easy for you to pick clothes for your outfit.
Of course, there are many different hues to each color, so you can mix a pair of blue jeans with a shirt or jumper that's a slightly lighter or darker type of blue. This will create a bit of visual interest, but there's also nothing wrong with going for the same color for the entire outfit.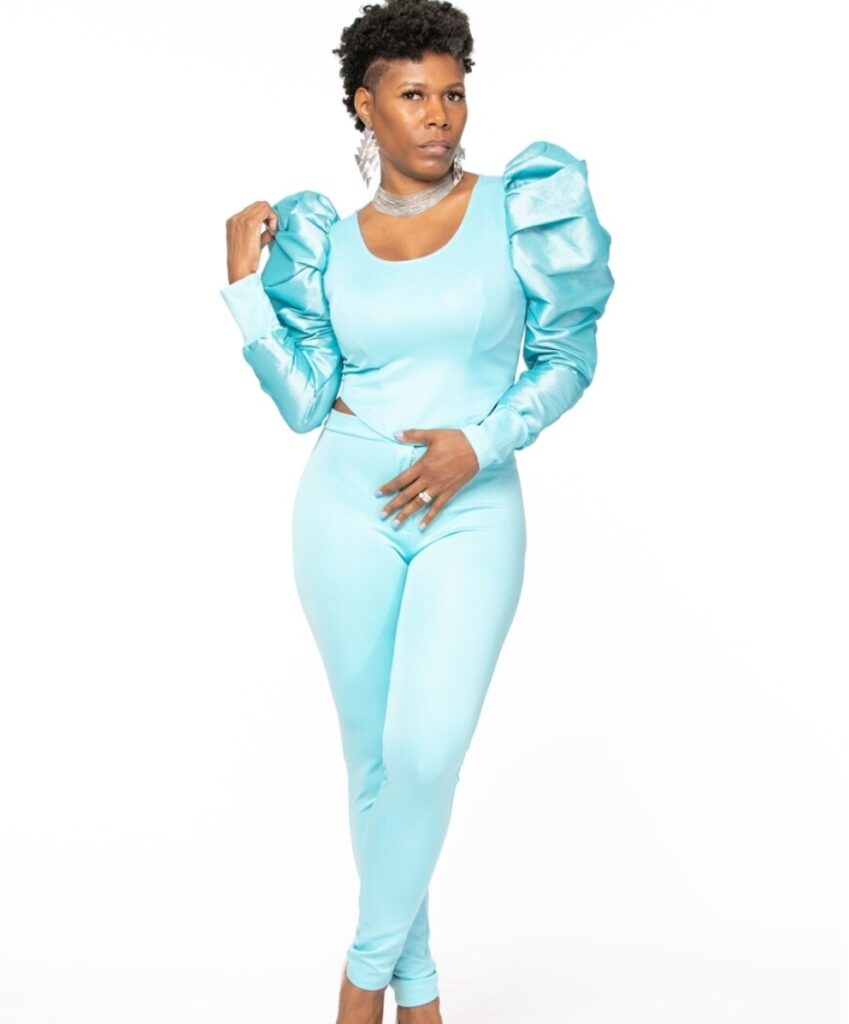 This Techno Blue Puff Set from Angel A. Studio is a fantastic example of a rather colorful and eccentric piece that follows the guidelines for a monochrome outfit. It has long puffy sleeves, and comes with high waisted pants. All you need to do is add some accessories to complete the look.
Monochrome sets like this are great for putting on when you don't want to overthink your outfit, and it allows you to customize the outfit by using different jewelry pieces and shoes.
Working with complementary colors
Before we get stuck in with this section, it's a good idea to look at a color wheel to figure out complementary colors. Complementary colors are the two colors that sit at opposite ends of the color wheel. Since they are literal opposites, they appear more prominent because they contrast really well. Some great examples of this include red and light blue, lime green and purple, and yellow and dark blue.
If you want a bit of diversity then you can try to choose a color that is not a primary color. When picking out accessories and pieces to use in a complementary color outfit, you want to ensure that you're giving each color some space to breathe.
For example, you could wear jeans with an orange top to add contrast. Similarly, you could wear a purple women's jumpsuit with a few green accents so that it doesn't overpower the dress, which is the last thing you want.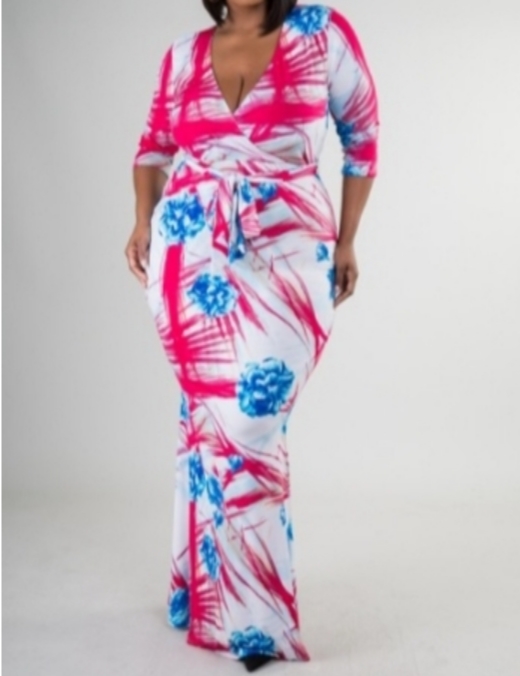 For a simple way to add color to your wardrobe, we suggest something like this Floral Print Maxi from Angel A. Studio. As a single piece, this is incredibly easy to wear and you can focus on styling with accessories and shoes.
The main attraction here is that it uses two complementary colors; red and blue. This means you don't need to spend much time thinking about which colors to use if you're planning a complementary outfit. You can just put this on and immediately look stunning!
Accenting statement pieces with pops of color
Every outfit should have some kind of statement piece that forms the basis of the outfit. Regardless of how colorful or plain it is, you should always look to accent it with bits of color in the form of accessories like bags or rings. However, you can also add subtle changes with something like your shoes, a belt, or even a tie depending on your outfit.
This is arguably one of the easiest ways to transition to using color in your outfits because you can stay with a base of neutral colors and just add bits of color here and there!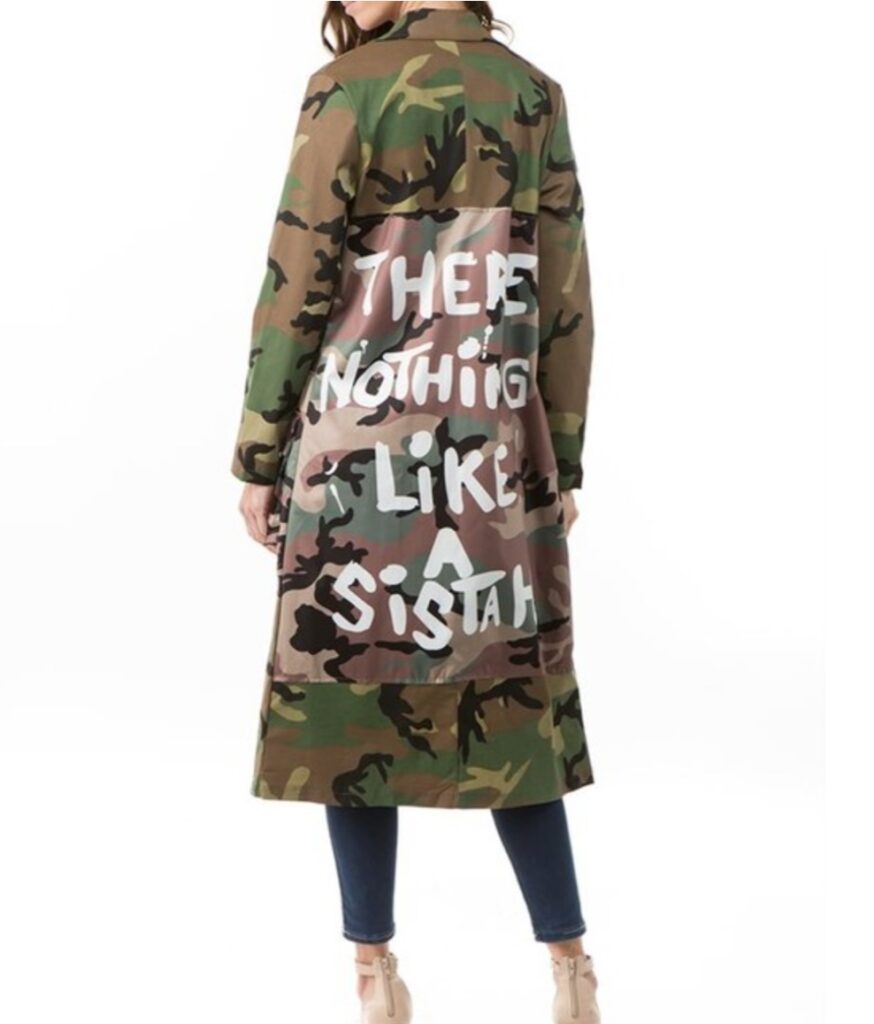 This Camo Print Jacket features a typical camo print but has a contrasting section in the middle with some printed text. This is considered a statement piece because it's loud, proud, and immediately draws your attention!
With its lab-coat style length and unique appearance, you need to find ways to complement it with accessories and colored pants or jeans that suit it. Simply put, any piece that you wear which has a lot of colors or a unique text design should be able to stand out! You need to surround it with complementary pieces that don't contrast too much to the point they steal the show from your statement piece.
We hope that this brief guide has helped you discover how to add a splash of color to your wardrobe with some of the wonderful pieces available from Angel A. Studio.
With everything from denim jackets to women's jumpsuits, the next time you find yourself searching for 'joggers near me' or 'rompers near me' give us a call or stop by! We'd love to show you our selection!