In the past, denim would go in and out of style every couple of years and a new accessory or piece of clothing would be made from this legendary blue material. As a fabric, denim is one of the sturdiest heavy-duty fabrics that you can make clothes with. It looks fantastic the day you buy it, but it can also wear out and create a lot of personality with different marks, scrapes, and even tears.
When denim was first invented and used for jeans, it was incredibly popular with miners and workers because it was a reliable and durable fabric. As the years went by, the west began to adopt jeans on the big screen. They were always associated with cowboys and movie stars.
It wasn't until 1950 that jeans became more of a fashion trend with a cool western vibe that was often worn by men. Everything changed in 1952 when Marilyn Monroe wore a pair of jeans. The rest is history!
These days, denim has gone through many transformations and is currently one of the most common fabrics you'll find in a variety of different clothing. It's always recognizable by its blue color and distinct grainy texture. However, denim took a backseat to casual and sport-inspired clothing in the past few years due to the rise of streetwear.
Thankfully, denim is finally making a comeback in Michigan and it's time to share a couple of pieces that you should have in your wardrobe from Angel A. Studio!
Denim essentials from Angel A. Studio in Michigan
Unsure how to jump back onto the denim train? We've got a couple of outstanding pieces at Angel A. Studio to help you revitalize your denim outfits.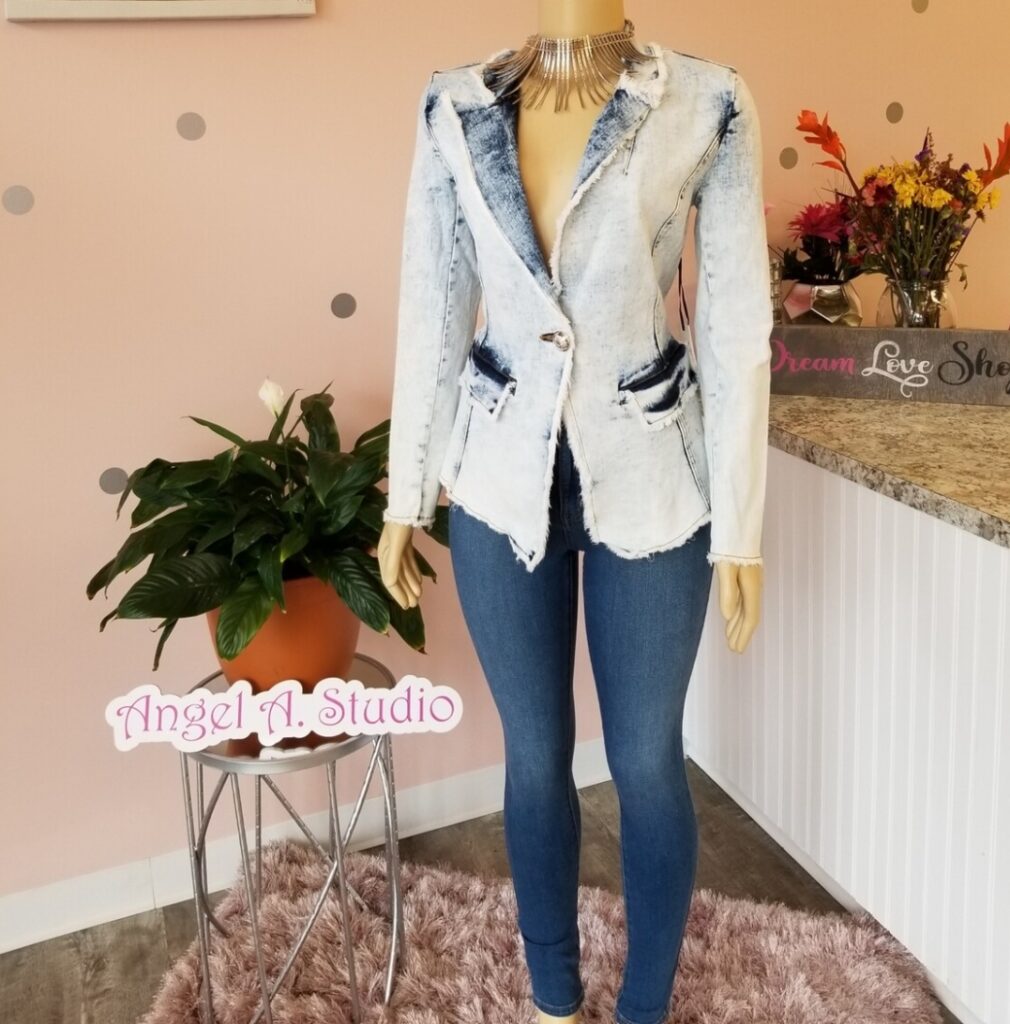 This stone-washed denim blazer at Angel A. Studio is one of the most popular pieces available. It's made from faded denim and contains a single button at the front to close the blazer. Multiple pockets adorn the front, and distressed edges show around the collar, the hem, and the cuffs. It's currently available in both a small and medium-size.
One of the great things about denim is that it takes on a wide range of different blue hues! You can go for a very dark blue if you like a bit more color, or you can also fade the denim to produce a light-blue color that contrasts well with darker jeans and other pieces of clothing.
This stylish Denim Blazer is an excellent addition to anyone's Michigan wardrobe. It embraces denim as a fabric and creates a rugged, worn and durable blazer that is faded on the outside but still retains much of its blue color on the inside.
Since the denim is already quite faded, we highly suggest pairing the Denim Jacket with another common denim piece; jeans. The blue color of a regular pair of jeans will contrast well with the light color of this jacket. As seen in the picture, large jewelry will help fill the space created by the large open collar for a perfect ensemble!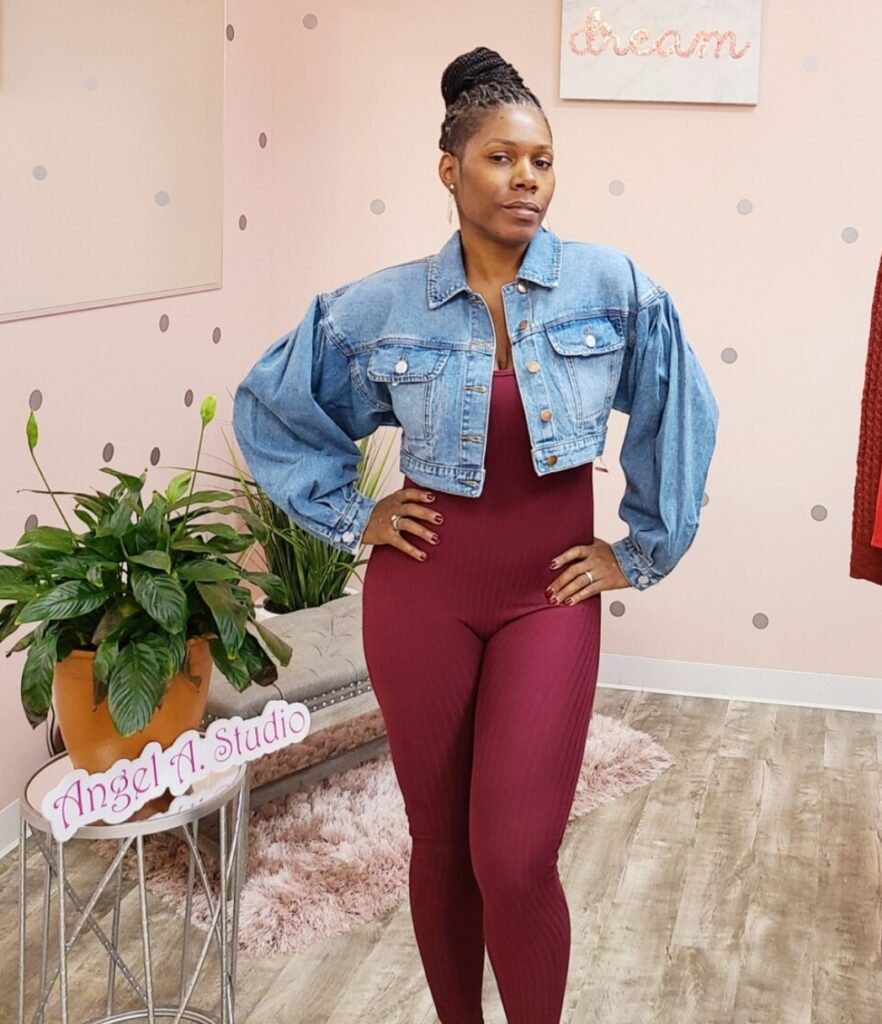 This cropped Puff Sleeve Denim crop jacket is a comfortable and stylish jacket made from quality denim. It's 100% cotton and comes with multiple buttons and pockets for functionality. Thanks to the large puffy sleeves, it's easy to wear this with virtually anything and you'll have an easy time removing it if you just want to rest it on your shoulders for a casual look.
Crop tops are an essential Michigan fashion item and this Puff Sleeve Denim jacket combines this with quality denim! This piece oozes with attitude and is also extremely comfortable to wear thanks to the quality material used and the oversized sleeves.
There are countless different ways to wear an item like this, but we'd suggest pairing it with a romper or one-piece jumpsuit. A tank top jumpsuit is a great complement to this as shown in the picture above and a combination we highly recommend.
Don't get stuck searching for 'denim jacket women's' all day, we have what you need at Angel A Studio!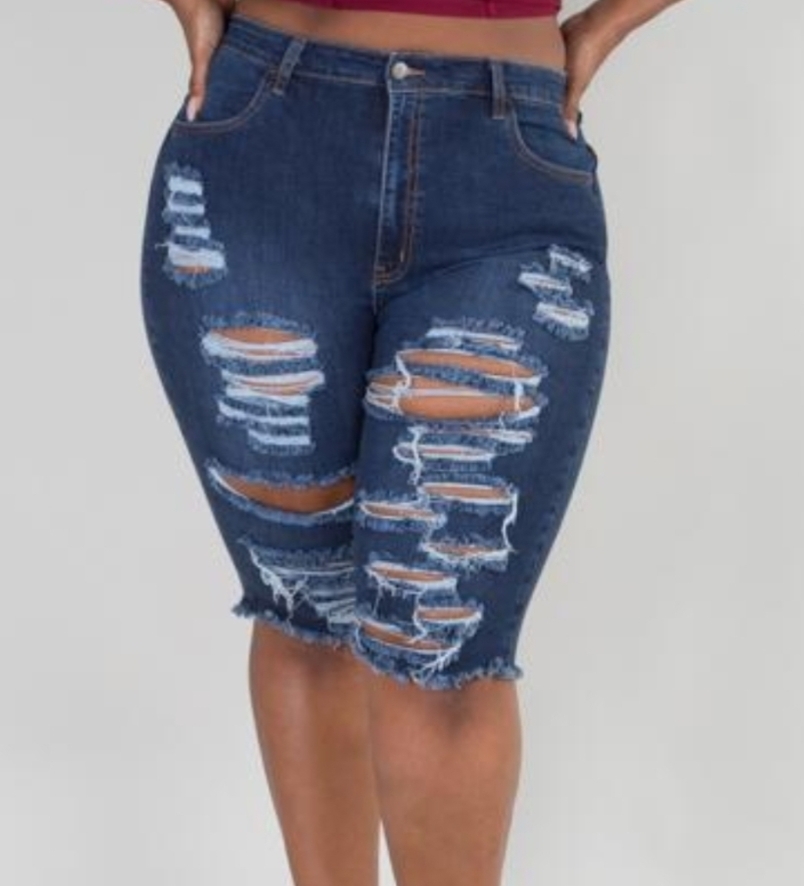 Denim jeans are always going to be a stylish item that you can wear in Michigan regardless of the season or current fashion trends. However, one item that we can highly recommend is this pair of Dark Denim Shorts.
These shorts have a much darker hue than the other denim items we've featured on this list. This pair has a distressed look with multiple cuts and frayed edges, giving them personality and attitude that would work great with a crop top, or even as part of a  streetwear-inspired outfit!
These shorts are a little longer than typical denim shorts. They're long enough to reach your knees and they don't have the folded edges that are common in most denim shorts. There's also space to fit a belt if you want to add a bit more visual interest to the front. This is a great piece from Angel A. Studio to have in your wardrobe as it's versatile, stylish, and works with many different fits!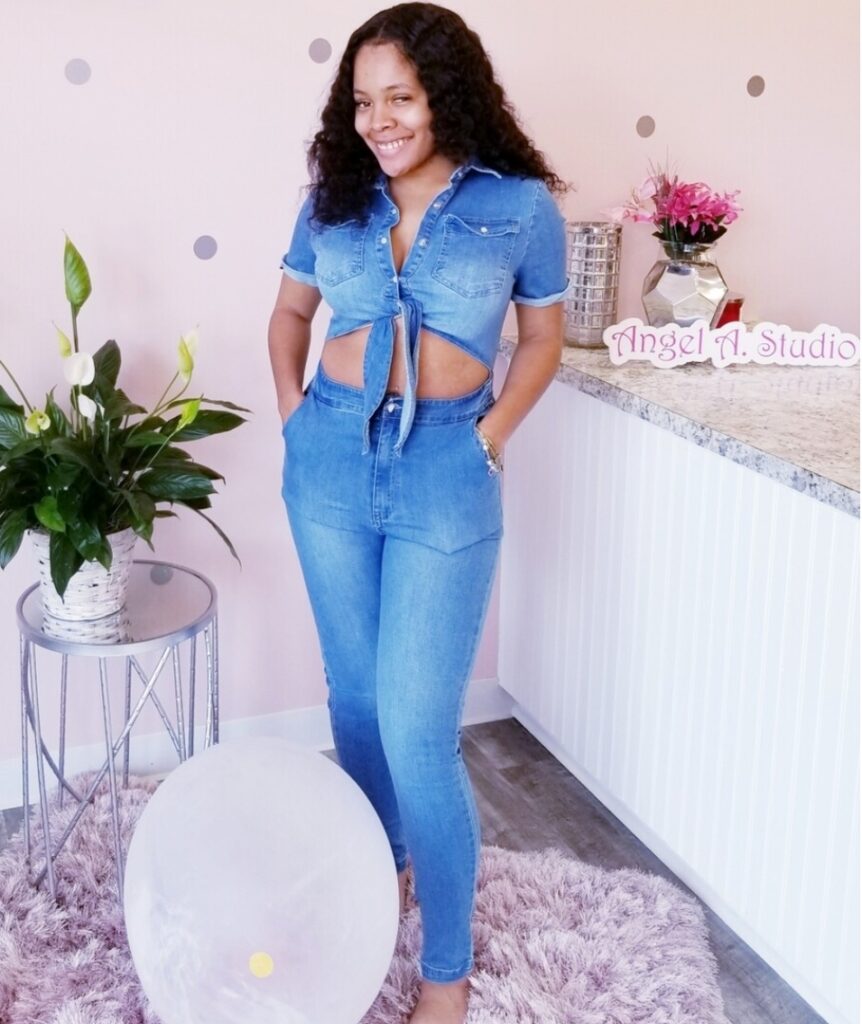 One of the most interesting pieces on this list is our Denim Tie Jumpsuit. If you've ever worn a jumpsuit, you'll probably love the idea of having the entire outfit based around a single fabric. They're great for looking your best without spending too much effort, and this Denim Tie Jumpsuit is the perfect example of something that you can slip on without much effort and accessorize the way you want!
Make this Denim Tie Jumpsuit the main focus of your outfit and layer with different accessories or even a jacket if it's a chilly Michigan fall night! The front tie offers a unique touch to this piece and the cutout at the front helps you show off your midriff.
We hope that this post has helped you discover some outstanding denim pieces from Angel A. Studio that will help drive the denim comeback here in Michigan.